Community Action for Health
The Community Action for Health, earlier known as Community Based Monitoring and Planning (CBMP), is a key strategy of the National Health Mission (NHM), which places people at the centre of the process of ensuring that the health needs and rights of the community are being fulfilled. It allows them to actively and regularly monitor the progress of the NHM interventions in their areas. It also results in communities participating and contributing to strengthening health services. Thereby, Bringing Public into Public Health. Read More>>
---
The Advisory Group on Community Action (AGCA) guided the implementation of a pilot on community action for health in 1,620 villages across 36 districts in nine states between 2007 and 2009, which was supported by the MoHFW. An external evaluation of the pilot phase observed the following outcomes:
The process empowered the community, especially marginalised groups to engage with Health Department Read More>>
The Kavi Dayaram school in Mujhmahuda basti in Vadodara is more than 40-years old.
0 comments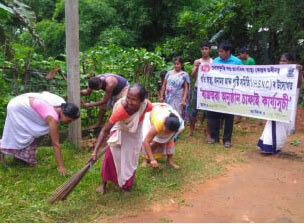 Saulkuchi block in Kamrup(R) district is popularly known as Manchester of Assam for its silk industry.
0 comments
More stories from the Field>>
Scaling – up
The AGCA provided technical support to 25 states to plan and roll-out the CAH programme during the Financial Year 2016-17. Subsequently, 24 states had incorporated the CAH component in their state Programme Implementation Plan (PIP) and 20 states have got approval of the component as per the Record of Proceedings (ROPs) 2016-17.
Began in 2007-2009 as a pilot programme in 9 states, the programme has been scaled-up to 18 states (51%) of the country covering 353 districts (54%), 2,159 blocks (33%) and 2,02,162 villages (32%) during the Financial Year 2016-17.
(Source for calculating %: https://data.gov.in/resources/number-districtsdrdasblocksvillages-country-state-2012/download)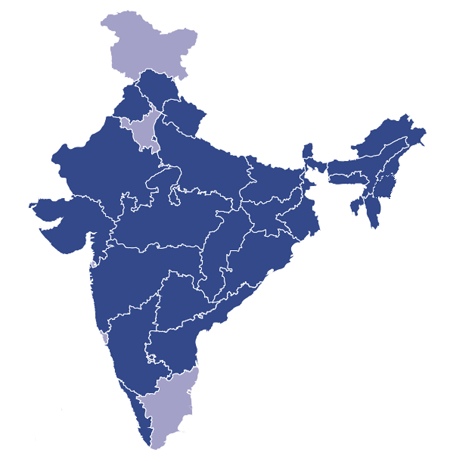 Resource Materials