Additional PHC made functional through community demand in Darbhanga

Funds were sanctioned for the construction of an Additional Primary Health Centre (A-PHC) at Bithauli, Block Baheri in District Darbhanga and the facility was to be made functional by early 2015. However, it has not happened. In early 2017, the VHSNC members were oriented on health rights and to undertake community monitoring of outreach and facility based health services. They brought up the issue of prolonged delays in initiation of services at the A-PHC at the VHSNC and Gram Panchayat (Village Council) meetings. Simultaneously, the petition was signed by the Gram Panchayat and submitted at the Block Planning and Monitoring Committee (BPMC) meeting in June 2017. The Block Medical Officer, Baheri assured at the meeting that the services would be started soon. However, there was no progress in the succeeding two months. The PFI team and the partners deliberated and felt that this issue needs to be taken forward at the district level. The Gram Panchayat members met the District Civil Surgeon for an early resolution wherein they sought support from Mr Ram Niwas Prasad, Member of the Legislative Assembly (Jale constituency).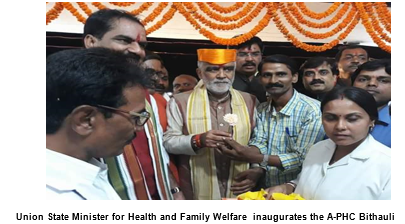 The administration was forced to act owing to the pressure from all ends. Subsequently, they undertook minor repairing work, necessary equipment and deputed staff to initiate services at the Bithauli A-PHC. The A-PHC was inaugurated by Mr Ashwini Kumar Choubey, Member of Parliament and Minister of State Health and Family Welfare, Government of India and services initiated in November 2017. Till December 2018, 1976 clients accessed services at the A-PHC, including 143 for family planning.
Greatly encouraged by the outcome, other such initiatives were taken by the Gram Panchayat and VHSNC members to collectivize and demand accountability for health services. From early 2018, a similar advocacy effort was done to initiate services at A-PHC Hariharpur, Block Singhwara in District Darbhanga. Posting of staff nurses was made and services initiated in January 2019. These efforts were taken forward in Nawada district, where issues of non-functioning of A-PHCs were brought up at the BPMC meetings and Jan Samwads (Social Audits). These yielded positive results and service provision initiated in 3 A-PHCs: Phuldih, Madhuradpur, and Kawadih at Kauwakol block in Nawada district.