ASHA Worker's Drive in Kerala in Combating against CORONA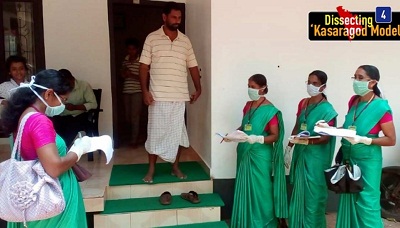 Chemnad is the biggest panchayat in Kasargod district of Kerala covering a population of 65,000. On April 25, 2020, a team of health workers of Chemnad Primary Health Centre visited the neighbouring village, Chembirrika after a woman was diagnosed with COVID-19. They immediately shifted the woman to the district general hospital in Kasargod and the remaining three members of her family to another testing centre.
A nine-member family with a five-month old baby in the neighbouring household was in apprehension due to the death of a same age COVID infected baby in Kerala. The team consoled the family not to fear and sent them to the testing centre. Subsequently, the team visited all nearby houses to inspect if anyone had contacted the infected woman.
Determined contact tracing and testing became routine of these health workers since the panchayat reported its first COVID-19 case on March 16, 2020. In Chemnad gram panchayat, 38 COVID cases have so far been reported, which is the highest number ever reported in a panchayat in Kerala. Of them, 36 have been cured and remaining two are under treatment in hospital.