Efforts of MAS Members in Keeping People Indoors during Covid 19
Jeypore, Koraput, Odisha
Ms Zarina Biwi, President of Dharitri Mahila Arogya Samiti (DMAS), Jeypore, Koraput said, "Despite repeated requests from the district administration and police not to step out from the houses during the lock down, some people are violating the rules. They not only put their lives at risk, but create problems for others. We hence, decided to guard the streets of ward number 22 to restrict the movement of the people.
>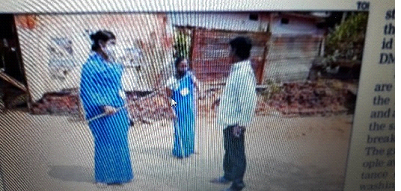 A group of women from DMAS came forward to keep people at home when people are flouting lockdown rules and not maintaining social distances. Armed with lathis, they were seen patrolling in lanes, by lanes of ward number 22 of Jeypore municipality, and roads in two shifts without any remuneration from anybody. The group is also making the people aware about the importance of social distancing, washing hands and using face masks. "People on the road are questioned and if anybody is going out for an emergency case, then that person is being allowed, else we are asking the people to return their homes," said Nirupama Padhi, Health Worker (F) who had formed DMAS in 2015 to create awareness on health related issues in the locality.
"Group members said that while most of the local residents obey and return homes, a few get into arguments. When they argue with us we keep cool and try to make them understand the situation." said Ms Tapasi Patri, an ASHA worker of the area.
Appreciating MAS members efforts in creating awareness on Covid, a local resident Nava Krushna Rath said that they are taking risks to help others which are commendable and would motivate others in fighting against this killer virus.