Members of Mahila Arogya Samities Stitch Masks for Slum Dwellers in Odisha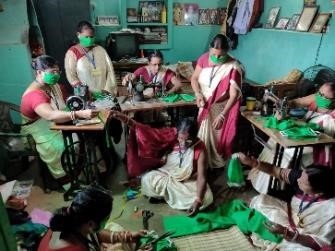 Members of Mahila Arogya Samities (MASs) have come forward to support the community during Covid 19 crisis. One among these was the initiative to distribute face masks to slum dwellers free of cost who cannot afford to buy masks. MAS members of 4 cities: Cuttack, Berhampur, Koraput and Bhubaneswar in Odisha have stitched face masks and distributed to the needy people in their slums.
MAS members have purchased clothes for masks from three sources: (i) untied funds, (ii) award money by the state NUHM on the best performing MAS based on their previous year work, and (iii) personal contributions. Considering the current Covid situations and better utilisation of the untied funds for the FY 2020-21, the state NUHM has instructed all the districts to release the untied funds for Covid related activities soon. The state NUHM is closely monitoring the Covid activities and trying to expedite releasing funds to the Mahila Arogya Samities.