Mobile Fever Clinic Bus in Mysuru, Karnataka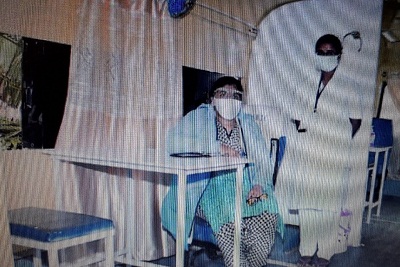 The Karnataka State Road Transport Corporation (KSRTC), Mysuru has converted a bus in to a Mobile Fever Clinic Bus for screening the people of rural Mysuru. Facilities provided in the bus include a bed, seating facility, medicine box, washing basin, sanitizers, liquid soap oil, water facility, fan and other required arrangements. The cost for a mobile clinic is Rs 50,000/-. Besides, some old buses have also been converted into 'Mobile Sanitizers' to fumigate the field workers combating for Covid 19.
The medical team inspected the bus and certified for screening the patients on the move which is the first ever mobile fever clinic bus rolled out in the state. Deputy Commissioner Mr Abhiram G. Sankar flagged off the bus.
Since Mysuru has 10 fever clinics besides a PHC and a District Hospital for screening, the mobile clinic facility is confined to rural Mysuru. The bus commutes to the rural areas of Mysuru for screening the village people, where Covid cases were reported and its surrounding villages to screen the fever cases, if any. A team comprising a doctor and a nursing staff, is attending the cases of fever, cold, cough and diabetes. This mobile clinic is not made for collecting swab samples. If required, cases will be taken in ambulance to the nearest swab collection center for collecting samples.