Rapid Antigen Test at the Pathakpur Health and Wellness Centre
Orang Block PHC, Udalguri district, Assam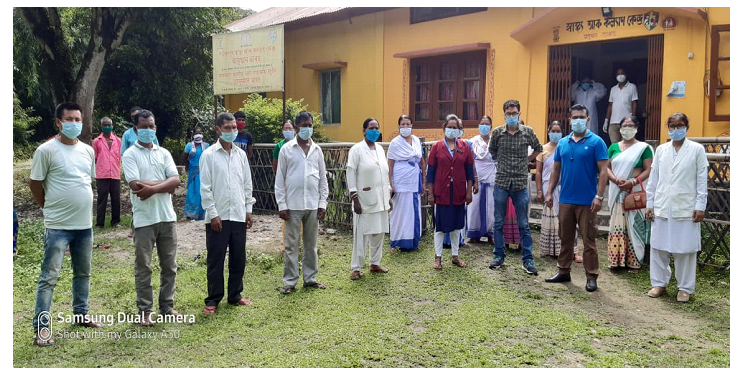 As the state's COVID-19 tally increases rapidly with more number of asymptomatic cases, the Government of Assam decided to conduct Rapid Antigen Test (RAT) to quickly identify the persons with COVID-19 infections for preventing transmission and referring them for proper treatment which resulted in bringing down the COVID fatality rate in the state.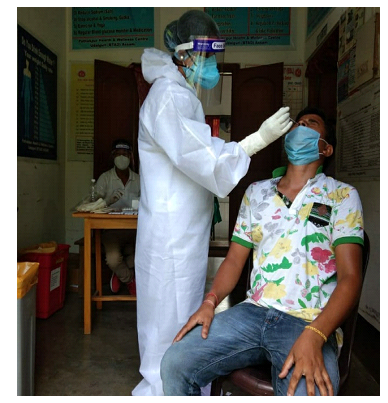 Given the context above, the Pathakpur Health and Wellness Centre (HWC) under Orang block PHC, Udalguri district, Assam decided to conduct Rapid Antigen Tests on August 28, 2020 for their residents with active support from the VHSNC monitoring committee, which has mobilized the suspected people with travel history and symptoms of COVID-19. To encourage people to come forward for the test, the leader of the CAH Feedback Team volunteered to be tested first. In addition, 6 more members of the committee have undergone RAT test and their tests resulted negative.
Subsequently, the residents have shown willingness to undertake the COVID-19 tests. 60 people were tested at the HWC. Out of which, 11 were detected positive who were referred to hospitals for further treatment/sent to quarantine centres as per the COVID-19 protocols.
As per the COVID-19 dashboard developed by the Government of Assam, the state has 148,969 COVID-19 confirmed cases as on September 17, 2020. Out of which, 119,364 have recovered; and 29,091 active cases are there while 511 patients passed away and 3 migrated.