WE WILL NOT FEAR, WE WILL DEFEAT CORONA: Confidence of a Female Health Worker in Odisha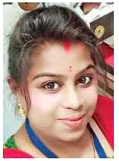 In the first phase, we undertook house to house survey in the village. Now in the second phase, we are doing thermal screening of family members and the persons who have high temperature are referred to city hospital for health check-ups. Urban Health and Nutrition Days (UHNDs) and immunization were suspended after lockdown, which have been restarted since May 2, 2020. We take the responsibilities of these activities as well," said Ms Ambika Patra, Health Worker (F) of Ward No.38, Ankuli, Berhampur, Odisha.
Ambika said that in addition to their regular duties, they are registering the details of persons who are coming from other states through mobile app 'Swosth' developed by Berhampur Municipal Corporation (BeMC). They paste stickers on the houses of the Odia expats who were quarantined and asked them to stay on home quarantine and do not stray from their homes.
She has a five member family. Due to her additional responsibilities to mitigate Covid 19, she is not able to spend time with her family. She leaves for work at 8 AM in the morning and returns at home around 8 PM. Ambika said, "We live with fear of contamination of diseases but, we are doing the duty to the best of our ability. If we stay healthy, other members of the family and society will stay healthy, and if we stay strong mentally, we can defeat CORONA." In addition, they give awareness messages on Covid and help all persons who are engaged in combating CORONA.